Stuffed Stuff For
Static White's Stitchery
!
A summary and review of two spooktacular purchases on etsy!

The first was a custom doll from The Poisoned Apple!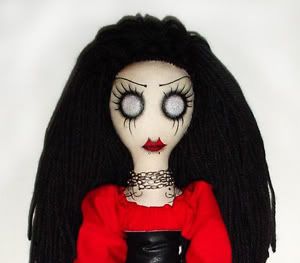 The doll was custom designed from a picture and written requests. It only took a week to create which is exactly what I was told by the seller when I placed the order. Shipping was quick and the doll was so well packaged I had to wrestle it out of all the bubble wrap! In my opinion she doesn't charge nearly enough for these hand painted and hand sewn creations. It is exactly what I wanted and I will definitely be buying from her again!

The second order was from Custom Cranium!


This little guy was everything I'd hoped he would be from the pictures in the listing! As the description said, " Fluffiest SnuffStuffy EVAR!" I got quite a deal considering this item was handmade with stuffed animals and professionally cleaned animal skull, not to mention the custom etched shot glass with a drawing of Florian and the shop name that was an extra little gift from the seller. Sent via Priority mail and packaged with lots of padding around the dolls skull, you can tell this seller takes great strides to send everything so that it arrives flawless and in a timely manner.

This are both of my stuffed pretties in there new home!