Is it me or did this Pocket Zombie Santa maybe have a little too much special eggnog, if you know what I mean?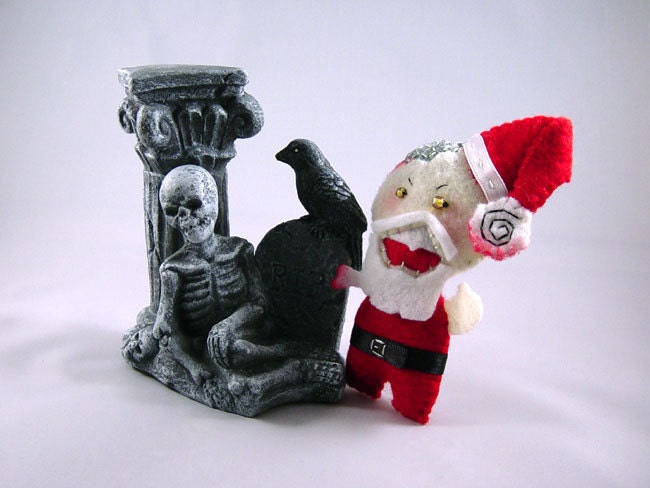 Anywho, as you can see poor Santa had a run-in with some naughty zombies. They gnawed on Santa's head and arm a bit before the reindeer could stomp their zombie butts into the ground where they belonged. But there's no keeping Santa from making his rounds! Granted with a shuffle and grunt, preferring brains and guts over milk and cookies these days but, hey, what can you do?  
♦ Stands approximately 4.5 inches (11.43cm) high from brain to feet.   
♦ Individually cut from synthetic felt, sewn, and embroidered by my two hands.
♦ "Blood" is freehand painted.
♦ Comes in a "Body Bag" (aka tissue holder)    
♦ Can be left as is, a Mini Plush, ~or~ can have a ornament loop/hook added ~or~ a pinback added at no extra charge. Just let me know in the "message to seller" box when you make your purchase.
(This listing is for the Pocket Zombie Santa only. Skeleton/tombstone/pillar not included.)
Next up, some new reversible headbands!
xx ~Static